April 16, 2010
Who are you going to trust in Atlanta for your POLYBUTYLENE REPIPE?
When you need to replace defective
POLYBUTYLENE

piping in your Atlanta home or building?

ANSWER: Delta Mechanical is the Nations leader in POLYBUTYLENE  repipes!

LOWEST PRICE GUARANTEED! Click for your free online quote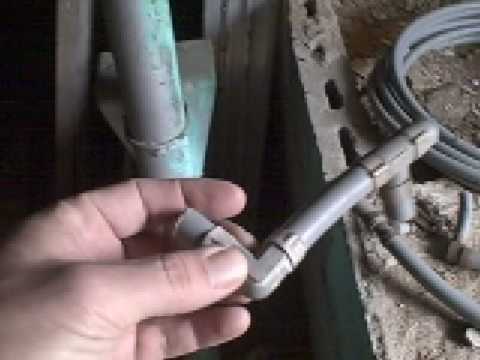 What is POLYBUTYLENE?

Polybutylene is a plastic resin used to make water pipes.  Polybutylene (plastic) Pipe was manufactured for installation in the United States from the late 1970s to the mid 1990s.  Polybutylene was the next big wonder product; cheap to produce, easy to install and no maintenance.  It became a popular substitute for traditional copper tubing.  It was used for the piping of both hot and cold potable water.  It is estimated that Polybutylene pipe was installed in over 6 million homes; experts believe it could have been installed in as many as 10 million homes.  Polybutylene Plumbing Systems were used for home interiors, underground water mains, in mobile homes, apartment buildings and commercial structures.   It is typically gray in color when used in the interior of a home.  Exterior Polybutylene underground water mains were typically blue, white, black or grey.  Polybutylene joints (fittings) were made with plastic, brass or copper rings that were inserted into the pipe. The exterior of the tubing was compressed with a plastic metal ferrule.  The most common sized for Polybutylene pipe are 3/8", 1/2", 3/4", and 1" tubing.
WHAT'S THE BIG DEAL?

Soon after Polybutylene plumbing became popular, the piping began to fail without warning, causing hundreds of millions of dollars in damage to people's homes.  Water damages began to surface by the 1980s.  Failure can occur in the plastic fittings or in the piping itself.  It has been discovered that as polybutylene pipe ages and reacts with water soluble oxidants it begins to degrade.  Polybutylene lines are susceptible to leakage along with sudden splitting due to fluoride and chlorine found in drinking water.  The plastic fittings characteristically went first and sprung leaks; these leaks were followed closely by the pipe itself.  The metallic fittings (usually aluminum or copper) aged more slowly than plastic fittings therefore prolonging the onset of leaks. It is merely a distinction between "bad and worse" not a perception of "good and bad". Chemicals such as chlorine and other common oxidants in city-provided water cause Polybutylene tubing to harden and become brittle; under pressure it will become weak, flake inside and slit apart. Micro-fractures result and the basic structural integrity of the plumbing system is reduced.  Deterioration begins from the inside of the Polybutylene tubing, so no evidence is visible from the outside.  The problem is there is no warning or way to predict that the pipe or fittings are nearing the time of complete failure.  To put it simply, a Polybutylene Plumbing System has an unusually high rate of failure under normal operating conditions.  It is believed that other factors may also have contributed to the failure of Polybutylene Systems, such as improper installation. However, it is virtually impossible to detect installation problems throughout an entire system.
The presence of Polybutylene pipe can severely affect a home's value on the real estate market.  When a home containing a Polybutylene Plumbing system is placed on the market, buyers will often discount the price (due to the material defect).  Even if the Polybutylene has not yet shown any leaks, it is known that Polybutylene piping will leak eventually.  There are currently no laws specifically regarding the disclosure of a Polybutylene Plumbing System on a property.  Some brokers have been sued for failing to disclose the presence of the piping in the structures they sell.
POLYBUTYLENE LEAKS IN YOUR ATLANTA HOME!

The main valve needs to be shut off should your system visually produce signs of a leak.  When a Polybutylene water main breaks under the house, the line needs to be abandoned.  Small leaks are the most problematic because much of the damage is done before leak symptoms are visible.  Polybutylene pipe generally takes 10-15 years to begin to show signs of deterioration.  Any repair to the piping is strictly temporary.
WHAT IS THE SOLUTION
Not all homes have had leaks, but the problem is, it's impossible to tell when a home will have problems. Unlike most other home maintenance issues, delaying Polybutylene replacement may have devastating consequences.  While pipe replacement is a "hidden" investment, it will increase the value of your home.  The only solution to the Polybutylene problem is to completely remove all Polybutylene plumbing from the home.  It needs to be replaced with a new system.
THE POLYBUTYLENE CLASS ACTION
Manufacturers have never admitted that polybutylene is defective. The Polybutylene Class Action lawsuit applied to homes with polybutylene installed between January 1, 1978 and July 31, 1995.  There are strict guidelines for reimbursement and eligibility for homeowners and businesses.  There is no longer time to file a claim for reimbursement, if your building has incurred a leak and damages from this product.  One of the largest suits in U.S. history is the Cox vs. Shell, et al. settlement of $950 million in 1995. As of May 1, 2009, the deadline for all new Cox vs. Shell, et al. claims has EXPIRED.
ABOUT DELTA MECHANICAL:
Delta Mechanical is the Nations leader in POLYBUTYLENE replacement.
With Polybutylene pipe replacement as a vendor for the Shell v. Cox class action settlement as our only concern, we opened our Atlanta/Georgia office in 1998. Growing from a small office in unincorporated Dekalb County in the North Atlanta/Decatur area, we moved to the Tucker/Stone Mountain area near the Dekalb/Gwinnett county line in 1998. Expanding our replumb services into the retail market; first with the real estate industry and then into apartment, condo, townhouse and other multi-family communities. While expanding our replumb market, we took on the role of providing "at-home installation services" for The Home Depot, at first with just a small number of stores, we soon outgrew those facilities.
In 2000 we moved into our present location at 2496 Lawrenceville Highway in Lawrenceville, GA where we service the entire state of Georgia for replumbing of defective pipes but primarily concentrate our efforts in the Greater Metro Atlanta and the North Georgia area in at-home installations for The Home Depot including water heater, and core plumbing installations such as sinks, faucets, toilets, disposals, and much more. Starting with just a handful of stores we have grown to 43 and are still growing, making us Georgia's most prolific installer of water heaters.
Specializing in Repipes, Georgia Delta Mechanical's Repipe Division is the states largest and most experienced provider of True Turnkey Polybutylene Pipe Replacement. While we don't do other things that a general service plumbing provider would such as; new construction, installation of sewers, or drain repair, we do offer the most experience of any company in Polybutylene or Defective Pipe replacement, working in finished and usually occupied structures anywhere in Georgia. There is a huge difference. We know how to protect your home, create the least amount of muss and fuss, we keep the water in your home operating during our Repipe, since we specialize we don't have to have oversized "one size fits all" equipment, and working directly with homeowners, we know how to get the job done right and to the satisfaction of the customer.
Besides repipe of Polybutylene, we also replace old or defective potable plumbing systems such as Galvanized, Copper, Kitec, and PEX systems with certain brass insert fittings that have proven defective. Additionally, we also offer a full range of installations to update fixtures such as low flow toilets and faucets, Pressure Balanced shower valves, tankless or hybrid water heaters, not to mention storage tank water heaters and more. We are also licensed contractors for the Abatement and disposal of Asbestos
Georgia Delta Mechanical serves the following areas for Polybutylene replacement:
Abba , Abbeville , Acworth , Adairsville , Adel , Adrian , Ailey , Alamo , Atlanta, Georgia , Albany , Dougherty, , Alma , Alpharetta , Fulton + Forsyth, , Amboy , Ambrose , Americus , Andersonville , Appling , Aragon , Arcade , Arlington , Arnoldsville , Ashburn , Athens , Clarke , Atlanta , Attapulgus , Auburn , Augusta , Austell , Douglas , Avera , Avondale Estates , Axson , Baconton , Baden , Bainbridge , Baldwin , Ball Ground , Bannockburn , Barnesville , Barney , Barretts , Baxley , Bellville , Bemiss , Berkeley Lake , Big Canoe , Blackshear , Blairsville , Blakely , Bloomingdale , Blue Ridge , Blythe , Boston , Bostwick , Bowdon , Bowens Mill , Bowman , Box Springs , Braswell , Bremen , Bristol , Bronwood , Brookfield , Brooklet , Broxton , Brunswick , Buchanan , Buena Vista , Buford , Bushnell , Butler , Byron , Cairo , Calhoun , Camilla , Canon , Canton , Carlton , Carnesville , Carrollton , Cartersville , Cataula , Cave Spring , Cedar Springs , Cedartown , Centerville , Chamblee , Chatsworth , Chattahoochee Hills , Chickamauga , Chula , Clarkesville , Clarkston , Claxton , Clayton , Cleveland , Climax , Clyattville , Clyo , Cobb , Cobbtown , Cochran , Cogdell , Colbert , Coleman , Colesburg , College Park , Collins , Colquitt , Columbus , Comer , Commerce , Conyers , Coolidge , Cordele , Cornelia , Council , Country Club Estate , Coverdale , Covington , Cox , Crawford , Crawfordville , Crescent , Culloden , Cumming , Cusseta , Cuthbert , Dacula , Dahlonega , Daisy , Dakota , Dallas , Dalton , Danielsville , Darien , Davisboro , Dawson , Dawsonville , Dearing , Decatur , Demorest , Denmark , Denton , De Soto , Dillard , Dixie , Dock Junction , Doerun , Donalsonville , Doraville , Douglas , Douglasville , Dover , Dover Bluff , Dry Branch , Dublin , Dudley , Duluth , Dunwoody , East Dublin , East Ellijay , East Point , Eastanollee , Eastman , Eatonton , Ebenezer , Edge Hill , Edison , Edith , Egypt , Elberton , Eldorado , Ellabell , Ellaville , Ellerslie , Ellijay , Emerson , Eton , Euharlee , Eulonia , Evans , Everitt , Fairburn , Fairmount , Fargo , Fitzgerald , Flemington , Flovilla , Flowery Branch , Folkston , Forest Park , Forsyth , Fort Benning , Fort Gaines , Fort Gordon , Fort McPherson , Fort Oglethorpe , Fort Stewart , Fort Valley , Fortson , Franklin , Fruitland , Gainesville , Garden City , Georgetown , Gibson , Gillsville , Glennville , Glenwood , Glory , Gordon , Graham , Grantville , Gray , Grayson , Greensboro , Greenville , Griffin , Grooverville , Groveland , Grovetown , Gumbranch , Guyton , Hagan , Hahira , Hamilton , Hampton , Hapeville , Harding , Hardwick , Harlem , Harrietts Bluff , Harrison , Hartwell , Hawkinsville , Hazlehurst , Helen , Helena , Hephzibah , Hickox , Hiltonia , Hinesville , Hiram , Hoboken , Hogansville , Holly Springs , Holt , Homeland , Homerville , Hopeulikit , Hortense , Hoschton , Howard , Howell , Hull , Ideal , Ila , Inaha , Irwinton , Irwinville , Isle of Hope , Jackson , Jakin , Jasper , Jefferson , Jeffersonville , Jekyll Island , Jesup , Johns Creek , Jonesboro , Keller , Kennesaw , Kinderlou , Kings Bay , Kingsland , Kingston , Kirkland , La Fayette , LaGrange , Lake City , Lake Park , Lakeland , Lakemont , Lavonia , Lawrenceville , Lax , Leary , Leefield , Leesburg , Lenox , Leslie , Lexington , Lilburn , Lilly , Lincolnton , Lithonia , Locust Grove , Loganville , Lookout Mountain , Louisville , Lovejoy , Ludowici , Lula , Lulaton , Lumber City , Lumpkin , Luthersville , Lyons , Macon , Madison , Manassas , Manchester , Mansfield , Marietta , Marshallville , Martinez , Matthews , Mauk , Mayday , McCaysville , McDonough , McRae , Meansville , Meigs , Meldrim , Menlo , Mershon , Metter , Midville , Midway , Milledgeville , Millen , Milner , Milton , Mineral Bluff , Molena , Moniac , Monroe , Montezuma , Montgomery , Monticello , Mora , Morgan , Morrow , Morven , Moultrie , Mount Berry , Mount Vernon , Mount Zion , Mountain Park , Mystic , Nahunta , Nankin , Nashville , Needmore , Nelson , Nevils , Newnan , New Rock Hill , Newton , Nicholls , Nicholson , Norcross , Norman Park , Norwood , Oakwood , Ocilla , Oconee , Offerman , Oglethorpe , Oliver , Omaha , Omega , Osterfield , Ousley , Oxford , Palmetto , Patterson , Pavo , Payne , Peachtree City , Pearson , Pelham , Pembroke , Pendergrass , Perry , Phillipsburg , Philomath , Pine Lake , Pine Mountain Valley , Pineora , Pinehurst , Pitts , Plains , Plainville , Pooler , Port Wentworth , Potter , Poulan , Powder Springs , Preston , Pridgen , ,, Queensland , Quitman , Race Pond , Ray City , Rebecca , Red Oak , Reidsville , Remerton , Resaca , Retreat , Riceboro , Richland , Richmond Hill , Ridgeville , Rincon , Ringgold , Rising Fawn , Riverdale , Roberta , Rochelle , Rock Spring , Rockingham , Rockmart , Rocky Face , Rome , Roopville , Roosterville , Rossville , Roswell , Royston , Rutledge , Saint George , Saint Marys , Saint Simons Island , Sandersville , Sandy Springs , Santa Claus , Sapelo Island , Sargent , Savannah , Scotland , Screven , Senoia , Sessoms , Sharon , Shawnee , Shellman , Shellman Bluff , Shiloh , Sirmans , Skidaway Island , Smithville , Smyrna , Snellville , Social Circle , Soperton , South Newport , Sparta , Springfield , Stapleton , Statenville , Statesboro , Statham , Stephens , Sterling , Stillwell , Stilson , Stockbridge , Stockton , Stone Mountain , Sugar Hill , Summerville , Sunbury , Sunny Side , Sunsweet , Suwanee , Swainsboro , Sycamore , Sylvania , Sylvester , Talbotton , Tallapoosa , Tarboro , Tarver , Tate , Temple , Tennille , Thalman , Thelma , Thomaston , Thomasville , Thomson , Tifton , Toccoa , Townsend , Trenton , Trudie , Tucker , Tunnel Hill , Twin City , Twin Lakes , Tybee Island , Ty Ty , Unadilla , Union City , Union Point , Unionville , Upton , Uvalda , Valdosta , Valona , Varnell , Vidalia , Vidette , Vienna , Villa Rica , Waco , Wadley , Waleska , Walnut Grove , Walthourville , Warm Springs , Warner Robins , Warrenton , Warthen , Warwick , Washington , Waterloo , Watkinsville , Waverly , Waverly Hall , Waycross , Waynesboro , Waynesville , Weber , West Green , West Point , Westwood , Whigham , White , White Oak , White Plains , Whitemarsh Island , Wildwood , Willacoochee , Wilmington Island , Winder , Winokur , Winterville , Withers , Woodbine , Woodbury , Woodland , Woodstock , Woodville , Wray , Wrens , Wrightsville , Young Harris , Yatesville , Zebulon ,
30002, 30003, 30004, 30005, 30006, 30007, 30008, 30009, 30010, 30011, 30012, 30013, 30014, 30015, 30016, 30017, 30018, 30019, 30021, 30022, 30023, 30024, 30025, 30026, 30028, 30029, 30030, 30031, 30032, 30033, 30034, 30035, 30036, 30037, 30038, 30039, 30040, 30041, 30042, 30043, 30044, 30045, 30046, 30047, 30048, 30049, 30052, 30054, 30055, 30056, 30058, 30060, 30061, 30062, 30063, 30064, 30065, 30066, 30067, 30068, 30069, 30070, 30071, 30072, 30073, 30074, 30075, 30076, 30077, 30078, 30079, 30080, 30081, 30082, 30083, 30084, 30085, 30086, 30087, 30088, 30090, 30091, 30092, 30093, 30094, 30095, 30096, 30097, 30098, 30099, 30101, 30102, 30103, 30104, 30105, 30106, 30107, 30108, 30109, 30110, 30111, 30112, 30113, 30114, 30115, 30116, 30117, 30118, 30119, 30120, 30121, 30122, 30123, 30124, 30125, 30126, 30127, 30129, 30132, 30133, 30134, 30135, 30137, 30138, 30139, 30140, 30141, 30142, 30143, 30144, 30145, 30146, 30147, 30148, 30149, 30150, 30151, 30152, 30153, 30154, 30156, 30157, 30160, 30161, 30162, 30163, 30164, 30165, 30168, 30169, 30170, 30171, 30172, 30173, 30175, 30176, 30177, 30178, 30179, 30180, 30182, 30183, 30184, 30185, 30187, 30188, 30189, 30204, 30205, 30206, 30212, 30213, 30214, 30215, 30216, 30217, 30218, 30219, 30220, 30222, 30223, 30224, 30228, 30229, 30230, 30233, 30234, 30236, 30237, 30238, 30240, 30241, 30248, 30250, 30251, 30252, 30253, 30256, 30257, 30258, 30259, 30260, 30261, 30263, 30264, 30265, 30266, 30268, 30269, 30270, 30271, 30272, 30273, 30274, 30275, 30276, 30277, 30281, 30284, 30285, 30286, 30287, 30288, 30289, 30290, 30291, 30292, 30293, 30294, 30295, 30296, 30297, 30298, 30301, 30302, 30303, 30304, 30305, 30306, 30307, 30308, 30309, 30310, 30311, 30312, 30313, 30314, 30315, 30316, 30317, 30318, 30319, 30320, 30321, 30322, 30324, 30325, 30326, 30327, 30328, 30329, 30330, 30331, 30332, 30333, 30334, 30336, 30337, 30338, 30339, 30340, 30341, 30342, 30343, 30344, 30345, 30346, 30347, 30348, 30349, 30350, 30353, 30354, 30355, 30356, 30357, 30358, 30359, 30360, 30361, 30362, 30363, 30364, 30366, 30368, 30369, 30370, 30371, 30374, 30375, 30376, 30377, 30378, 30379, 30380, 30384, 30385, 30386, 30387, 30388, 30389, 30390, 30392, 30394, 30396, 30398, 30399, 30401, 30410, 30411, 30412, 30413, 30414, 30415, 30417, 30420, 30421, 30423, 30424, 30425, 30426, 30427, 30428, 30429, 30434, 30436, 30438, 30439, 30441, 30442, 30445, 30446, 30447, 30448, 30449, 30450, 30451, 30452, 30453, 30454, 30455, 30456, 30457, 30458, 30459, 30460, 30461, 30464, 30467, 30470, 30471, 30473, 30474, 30475, 30477, 30499, 30501, 30502, 30503, 30504, 30506, 30507, 30510, 30511, 30512, 30513, 30514, 30515, 30516, 30517, 30518, 30519, 30520, 30521, 30522, 30523, 30525, 30527, 30528, 30529, 30530, 30531, 30533, 30534, 30535, 30536, 30537, 30538, 30539, 30540, 30541, 30542, 30543, 30544, 30545, 30546, 30547, 30548, 30549, 30552, 30553, 30554, 30555, 30557, 30558, 30559, 30560, 30562, 30563, 30564, 30565, 30566, 30567, 30568, 30571, 30572, 30573, 30575, 30576, 30577, 30580, 30581, 30582, 30596, 30597, 30598, 30599, 30601, 30602, 30603, 30604, 30605, 30606, 30607, 30608, 30609, 30612, 30619, 30620, 30621, 30622, 30623, 30624, 30625, 30627, 30628, 30629, 30630, 30631, 30633, 30634, 30635, 30638, 30639, 30641, 30642, 30643, 30645, 30646, 30647, 30648, 30650, 30655, 30656, 30660, 30662, 30663, 30664, 30665, 30666, 30667, 30668, 30669, 30671, 30673, 30677, 30678, 30680, 30683, 30701, 30703, 30705, 30707, 30708, 30710, 30711, 30719, 30720, 30721, 30722, 30724, 30725, 30726, 30728, 30730, 30731, 30732, 30733, 30734, 30735, 30736, 30738, 30739, 30740, 30741, 30742, 30746, 30747, 30750, 30751, 30752, 30753, 30755, 30756, 30757, 30802, 30803, 30805, 30806, 30807, 30808, 30809, 30810, 30811, 30812, 30813, 30814, 30815, 30816, 30817, 30818, 30819, 30820, 30821, 30822, 30823, 30824, 30828, 30830, 30833, 30901, 30903, 30904, 30905, 30906, 30907, 30909, 30911, 30912, 30913, 30914, 30916, 30917, 30919, 30999, 31001, 31002, 31003, 31004, 31005, 31006, 31007, 31008, 31009, 31010, 31011, 31012, 31013, 31014, 31015, 31016, 31017, 31018, 31019, 31020, 31021, 31022, 31023, 31024, 31025, 31026, 31027, 31028, 31029, 31030, 31031, 31032, 31033, 31034, 31035, 31036, 31037, 31038, 31039, 31040, 31041, 31042, 31044, 31045, 31046, 31047, 31049, 31050, 31051, 31052, 31054, 31055, 31057, 31058, 31059, 31060, 31061, 31062, 31063, 31064, 31065, 31066, 31067, 31068, 31069, 31070, 31071, 31072, 31075, 31076, 31077, 31078, 31079, 31081, 31082, 31083, 31084, 31085, 31086, 31087, 31088, 31089, 31090, 31091, 31092, 31093, 31094, 31095, 31096, 31097, 31098, 31099, 31106, 31107, 31119, 31120, 31126, 31131, 31136, 31139, 31141, 31145, 31146, 31150, 31156, 31191, 31192, 31193, 31195, 31196, 31197, 31198, 31199, 31201, 31202, 31203, 31204, 31205, 31206, 31207, 31208, 31209, 31210, 31211, 31212, 31213, 31216, 31217, 31220, 31221, 31294, 31295, 31296, 31297, 31301, 31302, 31303, 31304, 31305, 31307, 31308, 31309, 31310, 31312, 31313, 31314, 31315, 31316, 31318, 31319, 31320, 31321, 31322, 31323, 31324, 31326, 31327, 31328, 31329, 31331, 31333, 31401, 31402, 31403, 31404, 31405, 31406, 31407, 31408, 31409, 31410, 31411, 31412, 31414, 31415, 31416, 31418, 31419, 31420, 31421, 31501, 31502, 31503, 31510, 31512, 31513, 31515, 31516, 31518, 31519, 31520, 31521, 31522, 31523, 31524, 31525, 31527, 31532, 31533, 31534, 31535, 31537, 31539, 31542, 31543, 31544, 31545, 31546, 31547, 31548, 31549, 31550, 31551, 31552, 31553, 31554, 31555, 31556, 31557, 31558, 31560, 31561, 31562, 31563, 31564, 31565, 31566, 31567, 31568, 31569, 31598, 31599, 31601, 31602, 31603, 31604, 31605, 31606, 31620, 31622, 31623, 31624, 31625, 31626, 31627, 31629, 31630, 31631, 31632, 31634, 31635, 31636, 31637, 31638, 31639, 31641, 31642, 31643, 31645, 31647, 31648, 31649, 31650, 31698, 31699, 31701, 31702, 31703, 31704, 31705, 31706, 31707, 31708, 31709, 31710, 31711, 31712, 31714, 31716, 31719, 31720, 31721, 31722, 31727, 31730, 31733, 31735, 31738, 31739, 31743, 31744, 31747, 31749, 31750, 31753, 31756, 31757, 31758, 31760, 31763, 31764, 31765, 31768, 31769, 31771, 31772, 31773, 31774, 31775, 31776, 31778, 31779, 31780, 31781, 31782, 31783, 31784, 31787, 31788, 31789, 31790, 31791, 31792, 31793, 31794, 31795, 31796, 31798, 31799, 31801, 31803, 31804, 31805, 31806, 31807, 31808, 31810, 31811, 31812, 31814, 31815, 31816, 31820, 31821, 31822, 31823, 31824, 31825, 31826, 31827, 31829, 31830, 31831, 31832, 31833, 31836, 31901, 31902, 31903, 31904, 31905, 31906, 31907, 31908, 31909, 31914, 31917, 31993, 31995, 31997, 31998, 31999, 39813, 39815, 39817, 39818, 39819, 39823, 39824, 39825, 39826, 39827, 39828, 39829, 39832, 39834, 39836, 39837, 39840, 39841, 39842, 39845, 39846, 39851, 39852, 39854, 39859, 39861, 39862, 39866, 39867, 39870, 39877, 39885, 39886, 39897, 39901